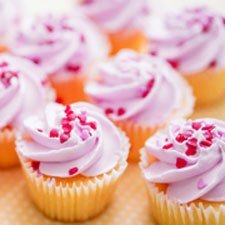 Today's shopper has so many options to fill their fresh bakery needs, it's harder than ever to entice them to your bakery. Offering top-quality items that shoppers will seek out week after week has become critically important. Offering products customers will perceive as high-value and convenient becomes paramount to the in-store bakery. Our products help to save on labor and ingredient costs while cutting down on stales and waste. Our frozen ready-to-bake FreshBakes® line of products – muffins, loaf cakes, quarter sheet cakes, and cupcakes – are perfect for the in-store bakery with the bake-on-demand capabilities. Plus, the smell of muffins and cookies baking will draw hungry shoppers to your bakery.
The upscale liners used in our PanFree® line add that extra appeal of a gourmet item. Our premium mixes and bases for cakes, muffins, donuts and Danish are perfect for the baker who wants from-scratch capabilities. Our fillings, toppings and icings round out our full-line of bakery products tailor made for the in-store bakery.
For the ultimate convenience, fully-baked Boston Coffee Cake award-winning coffee cakes provide you with thaw and sell ease. 24 oz. coffee cakes in several delicious varieties are packaged in colorful signature striped boxes that are easy for customers to identify week after week. Fully baked 16 oz. pound cakes in three delicious varieties round out your Boston Coffee Cake branded items. Boston Coffee Cake has made a strong name for itself in New England and has a loyal customer following. Boston Coffee Cake's strong consumer mail-order business is building national recognition.