President's Message
history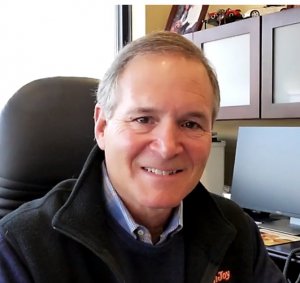 In 2021 we celebrate 80 years! I am so proud of the heritage my grandfather started with the A.E. Ogan Company back in 1941. Throughout our 80 years, we have stayed true to my grandfather's original vision – providing solutions to the busy baker.
Through the years, I have seen our company grow, evolve and weather many storms. Our product focus has changed in answer to consumer trends and to better provide our customers with the products they need. One thing remains constant: our strict commitment to always put our customers first.
Our company mission and vision statements are centered on building our customers' successes. We realize that it is only through our customers' success that we can succeed. I'm proud not only of my family's longstanding tradition, but of each and every one of our associates who contributes to Bake'n Joy's success every day. I look forward to continuing to bring my grandfather's vision to life in the days ahead.
I invite you to discover the opportunities that Bake'n Joy offers you.

Robert M. Ogan
President/CEO
Our Culture and Values
Our Mission
Our mission is to enhance our customers' business. We will do this by providing the highest quality bakery products and the best possible services to the food industry. We will continuously improve all aspects of our business in order to sustain the long-term success of our customers and ourselves.
Our Vision
Bake'n Joy will be living proof that caring, integrity, hard work and innovation at all levels create success.
Values and Guiding Principles
Customers are the focus of everything we do.
Actively listen, respond quickly and be honest.
Act with integrity, passion and enthusiasm.
Be confident, be knowledgeable and follow through with your commitments.
Associates are critical to our success.
Be honest, consistent and responsible in the pursuit of organizational goals and managerial actions.
Cultivate the desire and energy of people to identify with and buy into the success of the organization.
Provide people opportunities for: achievement, responsibility, recognition, interesting and meaningful work, growth and advancement.
Provide a safe, secure and respectful work environment for all associates.
Services and products drive our growth opportunities.
Attract and retain knowledgeable, technically skilled, experienced and capable people.
Offer services and products that are "different" in some special way to increase our competitive advantage.
Invest in new products on an ongoing basis to ensure the company maintains current state-of-the-art products in the marketplace.