Corporate Feeding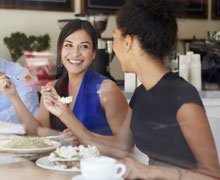 Bake'n Joy provides high-quality, convenience-driven products to make your job easier. Fresh baked muffins, cookies and other snack items are always a hit at any time of day — they help get your customers through their busy workday!
From premium frozen batters for delicious and rich muffins to PanFree® quarter sheet corn bread, we have the products to help your operation run at optimum capability. Specialty items such as Whole Grain and Sugar Free are also available to satisfy this growing demand.
Healthcare
Because patients, employees and visitors have varying requests and requirements, we have a full range of labor-saving products to meet your operational needs. From ready-to-bake whole grain muffins and sugar free/no sugar added muffins and fully-baked no sugar added coffee cake and sugar free pound cake, we have the products in demand in the healthcare industry.
Whether your concerns are dietary restrictions, cost containment, labor solutions, portion control, or all of the above, our quality line of ready-to-bake frozen batters, top-notch bakery mixes & bases and Boston Coffee Cake branded products prove to be an ideal solution.
Patient Dining
Because we are an upscale retirement community, I'm always looking for the very best, high quality products.
With a full range of products addressing specific dietary restrictions, we have the products needed for patient dining in convenient, easy-to-use frozen batters, dry mixes and fully-baked cakes and loaves. Our sugar free, no sugar added, low fat and fat free bakery mixes & bases offer even more versatility in providing sugar and fat restricted patients with moist and delicious muffins, cakes and other treats. Our Ultra Moist® line of frozen scoop & bake batters offer needed calories and fat intake for patients with this concern. Check out our full line of "Simply Delicious" 100% Whole Grain muffins and cookies which offer between 8g and 40g of whole grains per serving.
Retail
Whatever your retail operation, we have the products to increase sales. From FreshBakes® predeposited muffins and loaves to ButterRich Trans Fat Free predeposited cookies, nothing is easier than ready-to-bake premium bakery items. And nothing sells like fresh baked goodies. Serve Boston Coffee Cake 48 oz. rings that are always a crowd pleaser.